Located just minutes from downtown Portland, Amaterra is perched high in the slopes of the city's West Hills. As a member, you can sip, savor, and enjoy bounty from one of the most unique wine terroirs in the country. Our estate overlooks unparalleled views of the Willamette Valley, embracing the landscape of the Pacific Northwest. It is a wine experience unlike any other, right at your fingertips.
The Amaterra difference:
our patent-pending winery
Amaterra uses a unique process that utilizes bridge cranes to allow one elevation drop to act as a multiple-level gravity-flow winemaking facility.  Our equipment and approach enable the gentlest handling of fruit and the resulting in-process wine. This maintains the delicate aromatics and desired structure sought after in Pinot Noir winemaking.   The patent-pending design also enables our winemaking team to see all areas of the process with no blind spots, and is highly efficient in terms of material handling efficiency.
Conveyors, augers, and aerative pumps are all harsh to fruit, juice, and wine.  We eliminated these in order to maximize wine quality. This coupled with vinification and barrel-aging in small lots allows us to layer in complexity and showcase a terroir-driven winemaking program. We look forward to welcoming you to the winery to experience Amaterra and 51Weeks Wines.
The vineyards
In the northern 60 miles of the Willamette Valley, between the Willamette River and the Coast Mountain Range, are a series of hills where the best Pinot Noir vineyards are planted.
Volcanic in origin and with varying soil types, they include the Eola-Amity, Dundee, Yamhill-Carlton, Chehalem, and others.
We work with vineyards perched on the hillsides of these areas, and have planted our estate vineyards at elevations of 500 – 850 feet.
This leads to fruit that has small berries, thicker skins, and is later ripening with complex flavors, excellent acid structure, and the phenolic profile of age-worthy wines. Our estate vineyards are planted to both heritage and Dijon clones of Pinot Noir and Chardonnay.
Events
Host an event in our barrel room.
At Amaterra, we offer several options throughout our winery to celebrate occasions big and small. Our barrel room is an ideal setting for a private dining experience. You are able to enjoy a glimpse of our winery production process while dining amongst our elegant wine barrels in the heart of our estate.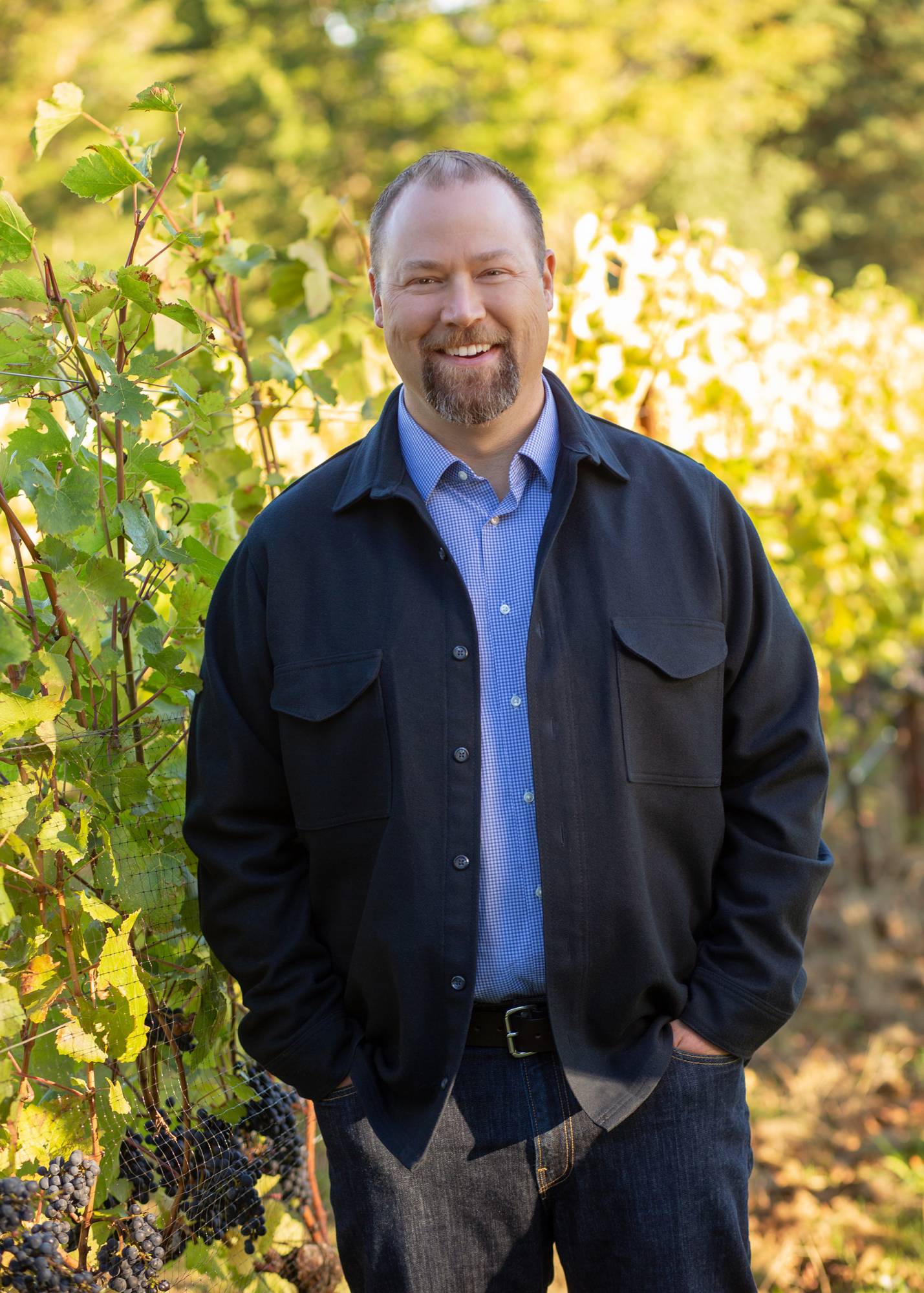 WINEMAKER
Matt Vuylsteke
Matt Vuylsteke is the General Manager and Winemaker at Amaterra. Matt is charged with leading the development of the estate vineyards and winemaking program, DTC, Wine Club, and off-premise sales. When he's not busy bringing delicious wines to consumers, Matt enjoys skiing, cycling, tennis, and spending time with his wife, two children, and golden retriever, Champ, on both the mountains and the beach.